550 Plungers raised more than $88,000 at the 2017 Cool School Plunge!
Location and Check In
Not registered online? Walk-up registration will be taken at the Pre-Plunge and Day-Of Check In events.
Plunge Time
Check-in beings at 10:30 a.m.
Plunge begins at noon
Plunge Location
Thomas Beach, Lake Calhoun
Thomas Ave S and W Calhoun Pkwy
Minneapolis, MN
map and directions

What is the Cool School Plunge?
The Cool School Plunge is an event designed specifically for students, staff and families of schools to participate in the Polar Plunge. While receiving a fun and educational experience about Special Olympics Minnesota (SOMN), the Cool School Plunge aims to teach youth from a young age about inclusion. Students will participate in the Polar Plunge and also interact firsthand with SOMN and learn more about ways they can get involved with SOMN programs. Students are encouraged to challenge others within their school as well as neighboring schools to participate!
The Cool School Plunge team that raises the most money will win a pizza party with Steve-O from KDWB!
Separate men's and women's heated changing tents are provided on-site, as well as a heated tunnel to warm up in afterwards!
Cool School Plunge* teams can also take part in our Give Back, Get Unified Fundraiser** to benefit their school.
Cool School Plunge participants must raise a minimum of $75 to participate in the event and are encouraged to raise additional funds and earn prizes along the way. All participants will receive:
$75 — Long-sleeved shirt
$250 — Long-sleeved shirt and baseball hat
$500 — Long-sleeved shirt and sweatshirt
$750 — Long-sleeved shirt and quarter zip
$1,000 — Long-sleeved shirt and Plunge backpack
$1,500 — All incentives
$3,000 — All incentives and a Plunge blanket
Additional Events
Free lunch!
Tons of games and activities!
Live performance from Koo Koo Kanga Roo!
The chance to win great prizes!
Opportunities to learn about Special Olympics Minnesota and our athletes!
The entire event emceed by KDWB!
Games on the main stage for students and teachers!
Music, dancing and fun for all!
And much, much more!
Photos
Event photos will be posted to our Flickr and Facebook pages as we receive them.  We are fortunate to have wonderful volunteer photographers for our events, and it typically takes a few weeks until we receive and post photos so please stay tuned. CL!X Portrait Studios will have action photographers taking pictures of all Plungers prior to the Plunge and during the big jump! CL!X photographers will have bright orange vests with the CL!X logo on it so you can easily identify them if you have a picture request. Photos will be loaded to the CL!X website the evening of the event. All photos are printed and mailed within 24 hours of order receipt. Call CL!X Support if you need assistance: 612-723-6324.
Check out volunteer opportunities for this event
Questions?
Joe Zander
joe.zander@somn.org
763.270.7140
Special Thanks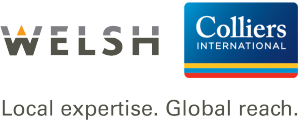 * Cool School Plunge is for K-12 only.
** The Give Back, Get Unified Fundraiser allows K-12 school teams to receive 35% of funds raised online (up to $3,500 for their school).
Group Challenges
Other Activities
Minneapolis Plunge
Frozen Friday
Cool School Plunge
Corporate Hour
Executive Challenge
Fireworks
Plunge 5K
Pee Wee Plunge
Super Plunge
Plunge Auction
Freezer Jam
Resources
 Find a Participant
 Event Tools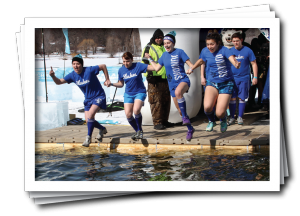 PLUNGE EMCEES
ENTERTAINMENT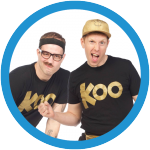 Koo Koo Kanga Roo
---