Location and Check In
Not registered online? Walk-up registration will be taken at the Pre-Plunge and Day-Of Check In events.
Plunge Time
Plunge begins at 3:30 p.m.

Plunge Location
Thomas Beach, Lake Calhoun
Thomas Ave S and W Calhoun Pkwy
Minneapolis, MN
map and directions
Event Schedule
3 p.m. – Registration opens
3 p.m. – Entertainment begins (until 7 p.m.) – Includes Giant Connect Four, Yardzee, Bean bags and more!
3:30 p.m. – Plunging begins (through approximately 4:15 p.m.)
4 – 6 p.m. – Food and drinks available
7 p.m. – Fireworks!
Photos
Event photos will be posted to our Flickr and Facebook pages as we receive them.  We are fortunate to have wonderful volunteer photographers for our events, and it typically takes a few weeks until we receive and post photos so please stay tuned. CL!X Portrait Studios will have action photographers taking pictures of all Plungers prior to the Plunge and during the big jump! CL!X photographers will have bright orange vests with the CL!X logo on it so you can easily identify them if you have a picture request. Photos will be loaded to the CL!X website the evening of the event. All photos are printed and mailed within 24 hours of order receipt. Call CL!X Support if you need assistance: 612-723-6324.
What is Corporate Hour?
Looking for an excuse to leave work early AND throw your boss in the lake? Corporate Hour has your company name written all over it.
Our 2nd annual Corporate Hour is a 21+ event, exclusive to corporate Plunge teams and gives you and your co-workers the opportunity to leave the office a little early and take the Plunge. In addition to Plunging, we'll have appetizer stations served from a variety of local restaurants, drinks available after the Plunge (2 drink tickets per Plunger) and music and activities from 3-7 p.m.
Following the Plunge, executives from across the state will Plunge alongside FOX 9 Chief Meteorologist Ian Leonard live on FOX 9 News in our Executive Challenge. Stay and watch execs (maybe your company's own will be Plunging?!) followed by fireworks at 7 p.m.
Corporate Hour Plunge participants must raise a minimum of $75 to participate in the event and are encouraged to raise additional funds and earn prizes along the way. All participants will receive:
$75 — Long-sleeved shirt
$250 — Long-sleeved shirt and baseball hat
$500 — Long-sleeved shirt and sweatshirt
$750 — Long-sleeved shirt and quarter zip
$1,000 — Long-sleeved shirt and 3-in-1 jacket
$1,500 — All incentives
$3,000 — All incentives and a Plunge blanket!
Want to attend, but don't want to Plunge? Guests are welcome to attend but for access to food and 1 free drink, a ticket can be purchased in advance here or at registration the day of.
Get Out of Work
Share your "sick note" with your boss and co-workers and get pumped for the Corporate Hour Plunge!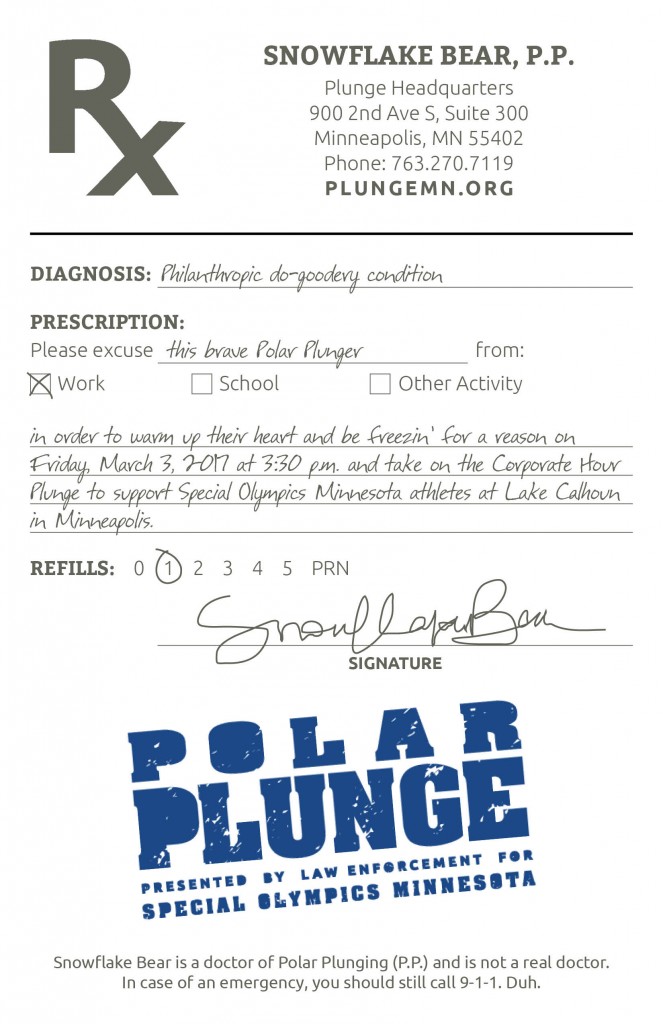 Questions?
Molly Swanson
molly.swanson@somn.org
763.270.7143
Special Thanks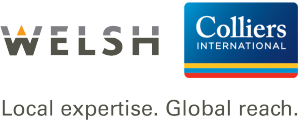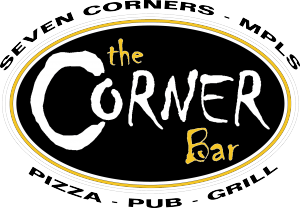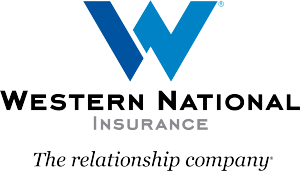 ---