Location and Check In
Not registered online? Walk-up registration will be taken at the Pre-Plunge and Day-Of Check In events.
5K Time
5K begins at 9 a.m.
5K Location
On the Lakewalk behind the Canal Park Lodge
250 Canal Park Dr
Duluth, MN
map and directions
Packet Pick Up
Friday, February 16
5 – 7 p.m.
Grandma's Sports Garden
452 South Lake Ave
Duluth, MN
Saturday, February 17
8 – 9 a.m.
5K site (Lakewalk behind Canal Park Lodge)
---
5K T-Shirt
All registered Plunge 5K participants will receive a t-shirt!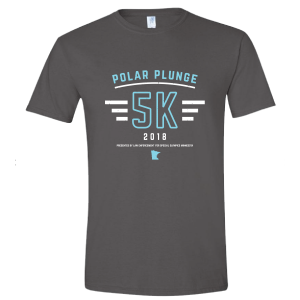 5K Details
5K begins at the Plunge site (look for the tents!). This event is a fun run and will not be timed. The course starts at the Plunge site, heads east on the lakewalk, turns around near 21st Avenue E, and heads back west to the finish line.
Dash and Splash
If you're looking for a more extreme form of exhilaration, consider adding a little "splash" to your "dash!" Sign up for the Plunge as well and take a dip into Lake Superior that same afternoon!
Photos
Event photos will be posted to our Flickr and Facebook pages as we receive them. We are fortunate to have wonderful volunteer photographers for our events, and it typically takes a few weeks until we receive and post photos so please stay tuned.
Past 5K Results
2017 – 139 runners raised $5,344
2016 – 135 runners raised $5,157
2015 – 123 runners raised $3,767
2014 – 84 runners raised $2,330
---