40 shredders raised more than $4,000 at Dave Ryan's 2017 Shred-A-Thon!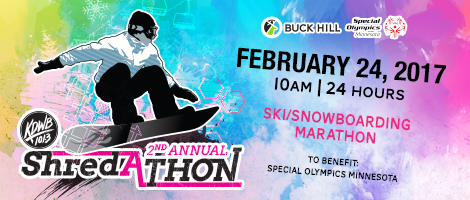 Plunging not your thing? No problem, we've got a way for you to be involved without dipping your piggies into the lake – Dave Ryan's Shred-A-Thon presented by 101.3 KDWB!
Join Dave Ryan and all of the other KDWB radio hosts for a full 24 hours of shredding at Buck Hill to support Special Olympics Minnesota!
REGISTER TODAY!
To sign-up, just register for the South Metro event and click the check box for Shred-A-Thon.
Time
Begins at 10 a.m.
Location
Buck Hill
15400 Buck Hill Rd
Burnsville, MN 55306
map and directions
Registration
Participants are able to check in for the event all day at Buck Hill. You can register online in advance, print off your confirmation email, and bring it to the ticket office or the chalet, and you'll be directed accordingly. You can also register on-site at the ticket office or Chalet. On-site check in and day of registration will be taken at the KDWB table inside the Chalet.
Cost
$30 – minimum entrance fee for 24-hour lift pass (skiing/snowboarding)
Check out photos from last year's Shred-A-Thon!
Additional fundraising is encouraged at the below listed incentives levels:
$75 — Long-sleeved shirt
$250 — Long-sleeved shirt and baseball hat
$500 — Long-sleeved shirt and sweatshirt
$750 — Long-sleeved shirt and quarter zip
$1,000 — Long-sleeved shirt and jacket
$1,500 — All incentives
$3,000 — All incentives and a Plunge blanket
Questions?
---