Congratulations to Jason R. for winning the Plunge VIP Pack! We hope you enjoy your Minnesota-themed swag.
Register for the Polar Plunge and use the code "VIP" for a chance to win the ultimate Plunge VIP Pack, valued at $220! We'll pick one lucky winner of those who use the code during registration. The winner will receive their Plunge VIP Pack upon check-in at their Polar Plunge event.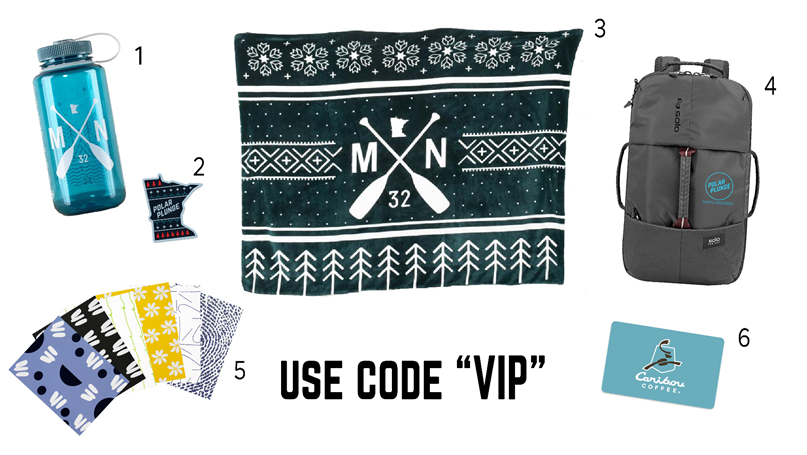 1. Sota Vagabond Nalgene Water bottle
Valued at $15
This 32oz wide mouth Nalgene bottle is dishwasher safe, BPA free, leak-proof and features a super-cool MN inspired design.
2. Polar Plunge sticker
Valued at $1.50
This MN-shaped Polar Plunge sticker is perfect for your new water bottle!
3. Sota Sherpa Toboggan Blanket
Valued at $65
A sherpa blanket is just what you need to warm up after the Polar Plunge! Sota Clothing Co's Toboggan blanket was designed in MN and is the perfect companion on a chilly day.
4. Polar Plunge Backpack
Valued at $100
All of your VIP items come pack up neatly in this Polar Plunge ultra-lightweight bag! The bag transforms into a backpack or duffel and features large capacity internal organization.
5. Enkourage Kards 6-pack
Valued at $15
Thank the generous donors who supported your Polar Plunge with EnKourage Kards! The CEO of EnKourage Kards is Kyle, a Special Olympics Minnesota athlete. Each card is thoughtfully designed with a tribute to Kyle and all things Down Syndrome/Trisomy 21.
6. $25 Caribou Coffee gift card
Warm up with a hot drink after Plunging at one of our favorite coffee shops in the state!
How to apply code
During Step 3 of the registration process, enter VIP in the field labeled "Enter promo code below," then click the blue Apply button. You will see a message saying, "Promo code 'VIP' was successfully applied."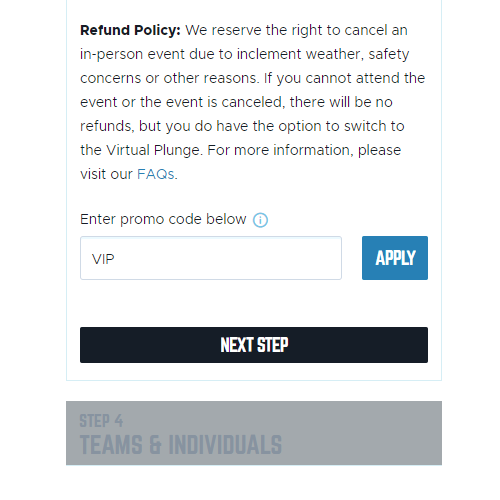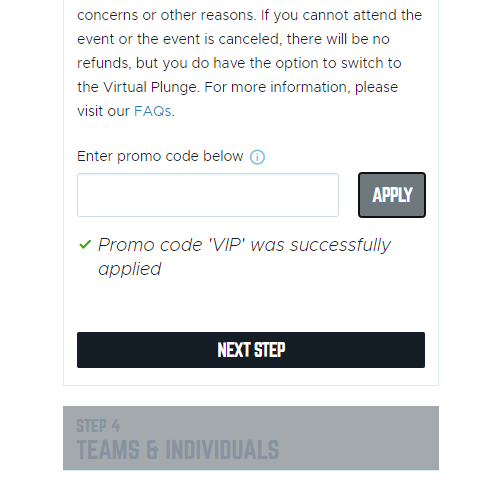 ---
To be considered eligible, new participants must register for a Plunge between 9 AM on Wednesday, December 15, 2021, and 11:59 PM on Saturday, January 15, 2022, and promo code "VIP" must be successfully applied during the registration process. Every completed eligible registration equals one chance for the Plunger to win the Plunge VIP Pack. One winner will be selected at random from the list of all eligible registrations and notified via email. Winner will pick up their Plunge VIP Pack during check-in at their registered Plunge event. If they fail to do so, prizes will be forfeited.