Location and Check In
Not registered online? Walk-up registration will be taken at the Pre-Plunge and Day-Of Check In events.
Pre-Plunge Check In
Date, time & location TBD
Day of Plunge Check In
Time TBD
Grandma's Sports Garden
452 S Lake Ave
Duluth, MN
map and directions
1,000 Plungers raised more than $160,000 at the 2015 Duluth Plunge!
Group Challenges
Event Activities
Resources
 Find a Participant
 Event Tools
 View Plunge Photos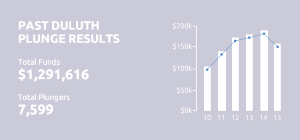 ---
Dash and Splash
If you're looking for a more extreme form of exhilaration, consider adding a little "dash" to your "splash!" Sign up for the 5K before you take a dip into Lake Superior!
Parking and Shuttle
Shuttles will run approximately every 15 minutes the day of the event and are available for free to all participants AND spectators. Shuttle times and locations TBD.
---