Mound
Saturday, January 26 Plunge begins at 1 p.m.
Surfside Park
Surfside Park, Mound, MN, USA
Pre-Plunge Check-In
Friday, January 25 5 - 7 p.m. Gillespie Center 2590 Commerce Blvd Mound, MN 55364
Day-Of Check-In
11 a.m. - 1 p.m.
Surfside Park
Mound, MN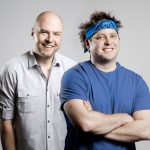 Ben + Dana
Plunge Hosts from GO 96.3
WHAT TO EXPECT
The Mound Plunge is brand new to the schedule in 2019! Throughout the day we'll have something for everyone: Polar Plunge merchandise, Special Olympics Minnesota and more Sponsor Activations and, of course, the Plunge!
VOLUNTEER
Stay warm and still make a difference! There are a variety of volunteer roles available that help support everything that goes on at your Polar Plunge.
parking + shuttles
A free shuttle bus will be available starting at 11:00 a.m. through the end of the Plunge. Shuttle buses are free to all participants and spectators. Because of limited parking available on-site, only handicap vehicle permits will be allowed to park at the beach. All others must ride the shuttle bus, which will run approximately every 10-15 minutes from the locations listed below.