570 Plungers raised more than $129,000 at the 2017 Maple Grove Plunge!
Location and Check In
Not registered online? Walk-up registration will be taken at the Pre-Plunge and Day-Of Check In events.
Plunge Time
Plunge begins at 1 p.m.
Plunge Location
Fish Lake Regional Park
14900 Bass Lake Rd
Maple Grove, MN
map and directions
Pre-Plunge Check In
Thursday, February 2nd
4 – 7 p.m.
The Lookout Bar and Grill
8672 Pineview Ln N
Maple Grove, MN
map and directions
Day of Plunge Check In
11 a.m. – 1 p.m.
Fish Lake Regional Park
14900 Bass Lake Rd
Maple Grove, MN
map and directions
Group Challenges
Resources
 Find a Participant
 Event Tools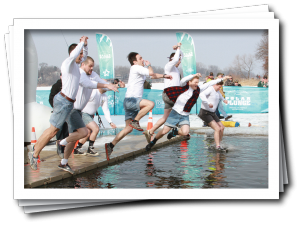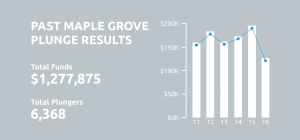 ---
Photos
Event photos will be posted to our Flickr and Facebook pages as we receive them.  We are fortunate to have wonderful volunteer photographers for our events, and it typically takes a few weeks until we receive and post photos so please stay tuned. CL!X Portrait Studios will have action photographers taking pictures of all Plungers prior to the Plunge and during the big jump! CL!X photographers will have bright orange vests with the CL!X logo on it so you can easily identify them if you have a picture request. Photos will be loaded to the CL!X website the evening of the event. All photos are printed and mailed within 24 hours of order receipt. Call CL!X Support if you need assistance: 612-723-6324.
Time Slots
Plungers are required to sign up for a Plunge time and can do so at Pre-Plunge Check In or Day of Plunge Check In. Time slots are first come, first serve. All members of a Plunge team will be given the same Plunge time. A team captain can sign up the entire team for a Plunge time slot, but remember that all team members need to check in (if your team captain hasn't checked you in) at Pre-Plunge Check In or between 11 a.m. and 1 p.m. on the day of the event in order to Plunge.
Day of Plunge Party
Join us for a Plunge Party at The Lookout Bar and Grill! The Lookout will be open at 10 a.m. on Saturday, February 6. There will be live music all day and post-Plunge trophies for most money raised!
Parking and Shuttle
A free shuttle bus route sponsored by Maple Grove Hospital will be available from 10:30 a.m. through the end of the Plunge. Shuttle buses are free to all participants and spectators and run approximately every 15 minutes.
The Lookout Bar and Grill
8672 Pineview Lane N
Maple Grove, MN 55369
map and directions
Heritage Christian Academy
15655 Bass Lake Rd
Maple Grove, MN 55311
map and directions
Special Thanks


Brooklyn Center Police Department
Cable 12
City of Maple Grove
Cl!x Portrait Studios
Hennepin County Sheriff's Office and Dive Team
Lookout Bar and Grill
Maple Grove Ambassador Scholarship Program
Maple Grove Fire Department
Maple Grove Parks and Recreation
Maple Grove Police Department
Maple Grove Lions

---