500 Plungers raised more than $168,000 at the 2017 Prior Lake Plunge!
Location and Check In
Not registered online? Walk-up registration will be taken at the Pre-Plunge and Day-Of Check In events.
Plunge Time
Plunge begins at noon
Plunge Location
Sand Point Beach
14349 Crest Ave
Prior Lake, MN 55372
map and directions
Pre-Plunge Check In
Friday, February 17
4:30 p.m. – 7:30 p.m.
Pre-Plunge Location
Canterbury Park
1100 Canterbury Rd S
Shakopee, MN 55379
map and directions
Day of Plunge Check In
10 a.m. – 12:00pm
Day of Plunge Check In Location
Sand Point Beach
14349 Crest Ave
Prior Lake, MN 55372
map and directions
PLUNGE AMBASSADOR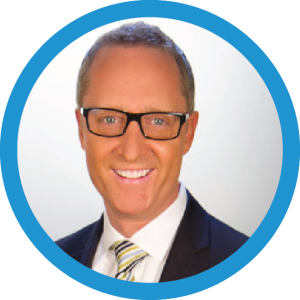 Ian Leonard FOX 9 Chief Meteorologist
PLUNGE EMCEE
Group Challenges
Resources
 Find a Participant
 Event Tools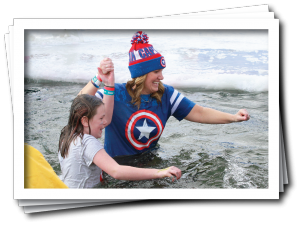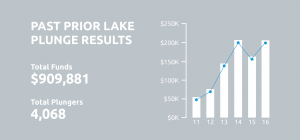 ---
Check out volunteer opportunities for this event
Concessions
Concessions will be available throughout the event. The Knights of Columbus of Prior Lake will be selling pulled pork, hot dogs, chips and soda. 100% of the proceeds will go to Special Olympics Minnesota.
Free coffee provided by Dunn Brothers will also be available.
Photos
Event photos will be posted to our Flickr and Facebook pages as we receive them.  We are fortunate to have wonderful volunteer photographers for our events, and it typically takes a few weeks until we receive and post photos so please stay tuned. CL!X Portrait Studios will have action photographers taking pictures of all Plungers prior to the Plunge and during the big jump! CL!X photographers will have bright orange vests with the CL!X logo on it so you can easily identify them if you have a picture request. Photos will be loaded to the CL!X website the evening of the event. All photos are printed and mailed within 24 hours of order receipt. Call CL!X Support if you need assistance: 612-723-6324.
Time Slots
Participants will be able to sign up for a Plunge time slot prior to the event. More details to come.
Parking and Shuttle
A free shuttle bus route, sponsored by Access Press, will be available from 10 a.m. through the End of the Plunge. Shuttle buses are free to all participants AND spectators. Because of the limited parking at the beach, only handicap vehicle permits will be allowed to park at the beach. All others must ride the shuttle buses, which will run approximately every 15 minutes from the following locations:
VFW Post 6208
16306 Main Avenue Southeast
Prior Lake, MN
map and directions
T.J. Hooligans
16731 Highway 13 S
Prior Lake, MN
map and directions
Buffalo Wild Wings
7551 Egan Drive
Savage, MN
map and directions
The Pointe
16691 South Highway 13 West
Prior Lake, MN
map and directions
Dakotah! Ice Center
2100 Trail of Dreams
Prior Lake, MN
map and directions
---