1,300 Plungers raised more than $285,000 at the 2016 White Bear Lake Plunge!
Come out Wednesday, December 14 from 5pm-8pm to be served by local law enforcement at Jimmy's Food & Drink! 100% of the funds raised will go directly back to Special Olympics Minnesota!
Location and Check In
Not registered online? Walk-up registration will be taken at the Pre-Plunge and Day-Of Check In events.
Plunge Time
Plunge begins at noon
Plunge Location
Ramsey Beach
5050 Lake Avenue N
White Bear Lake, MN
map and directions
Pre-Plunge Check In
Friday, January 27
3:30 – 7 p.m.
Jimmy's Food & Drink
1132 East County Rd E
Vadnais Heights, MN
map and directions
Day of Plunge Check In
10 a.m. – 1 p.m.
Ramsey Beach
5050 Lake Avenue N
White Bear Lake, MN
map and directions
Group Challenges
Resources
 Find a Participant
 Event Tools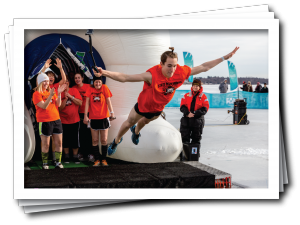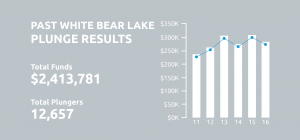 ---
Photos
Event photos will be posted to our Flickr and Facebook pages as we receive them.  We are fortunate to have wonderful volunteer photographers for our events, and it typically takes a few weeks until we receive and post photos so please stay tuned. Select Plunge location photos will be loaded to the CL!X website (view and order prints > event photography) the day following the event. All photos are printed and mailed within 24 hours of order receipt.
Time Slots
Individuals and teams are required to sign up for a Plunge time and can do so at Pre-Plunge Check In or Day of Plunge Check In, or the team captain can email us at WBL_Time_Slots@somn.org. Times will be given out every 15 minutes beginning at 12:15 p.m. through 2:15 p.m. In your email, please give your TEAM NAME, NUMBER OF TEAM MEMBERS and list your top three time requests in order of preference (ex. 1:15 / 1:30 / 2:00). If your first choice is filled, we'll go to the next time. Time slots are first come, first serve. All those on a Plunge team will be given the same Plunge time. A team captain can sign up the entire team for a Plunge time slot, but remember that all team members need to check in (if your team captain hasn't checked you in) at Pre-Plunge Check In or between 10:00 a.m. and 1:00 p.m. on the day of the event in order to plunge.
Plunge Kick-Off Party
Join us for a Plunge kick-off party from 4 – 7 p.m. during the Pre-Plunge Check In on Friday, January 29! As part of Plunge Pre-registration going on, Jimmy's will be providing a free meal to Plungers and those who RSVP in advance. Munch on food, meet Snowflake the Plunge mascot, check out Plunge merchandise and hear a Special Olympics Minnesota athlete tell you what your Plunge participation means to them. Show your Plunger wristband to gain access to the event! Not a Plunger? Entrance is free, but you must RSVP to plunge@somn.org by Friday, January 22 or a charge of $5 will be taken at the food station.
Plunger Perks
Check out the Plunger Perks at Jimmy's Food & Drink, happening on Friday, January 29 and Saturday, January 30!
Costume Contest at Jimmy's
Best Male
Best Female
Biggest Team
Most Patriotic
Contest sign-up is at Jimmy's beginning at 10 a.m. on Saturday, January 30.  Contest judging will begin at 10:30 a.m., and winners will receive a Plunger Plaque and a $100 gift certificate to Jimmy's!
Parking and Shuttle
A free shuttle bus route, sponsored by Access Press, will be available from 10 a.m. through the end of the Plunge. Shuttle buses are free to all participants and spectators. Because of the limited parking on-site, only handicap vehicle permits will be allowed to park at the beach. All others must ride the shuttle buses, which will run approximately every 15 minutes from the following locations:
Jimmy's Food & Drink
1132 E County Rd E
Vadnais Heights, MN 55906
Eagle Brook Church
2401 Buffalo St
White Bear Lake, MN 55110
---