550 Plungers raised more than $95,000 at the 2017 Woodbury Plunge!
Location and Check In
Not registered online? Walk-up registration will be taken at the Pre-Plunge and Day-Of Check In events.
Plunge Time
Plunge begins at 1 p.m.
Plunge Location
Carver Lake Beach
3175 Century Ave S
Woodbury, MN
map and directions
Pre-Plunge Check In
Friday, February 10
5 – 7 p.m.
Carver Lake Beach
3175 Century Ave S
Woodbury, MN
map and directions
Day of Plunge Check In
11 a.m. – 1 p.m.
Carver Lake Beach
3175 Century Ave S
Woodbury, MN
map and directions
PLUNGE EMCEE
Group Challenges
Resources
 Find a Participant
 Event Tools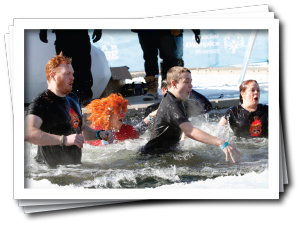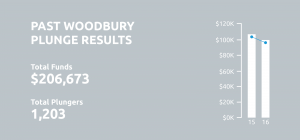 ---
Check out volunteer opportunities for this event
Wild-Centric at the Woodbury Plunge!
Wild players Jordan Schroeder and Gustav Olofsson will be at the Plunge from roughly 1:00-2:30 p.m. signing autographs!
Check-in at the Woodbury Plunge with the minimum $75 fundraising fee and you'll be entered into a drawing for a signed Wild stick or jersey!
Raise over $500 and receive a Wild goodie bag at check-in!
Photos
Event photos will be posted to our Flickr and Facebook pages as we receive them.  We are fortunate to have wonderful volunteer photographers for our events, and it typically takes a few weeks until we receive and post photos so please stay tuned. CL!X Portrait Studios will have action photographers taking pictures of all Plungers prior to the Plunge and during the big jump! CL!X photographers will have bright orange vests with the CL!X logo on it so you can easily identify them if you have a picture request. Photos will be loaded to the CL!X website the evening of the event. All photos are printed and mailed within 24 hours of order receipt. Call CL!X Support if you need assistance: 612-723-6324.
Time Slots
Plungers are required to sign up for a Plunge time and can do so at pre-check in or day of check in. Time slots are first come, first serve. All members of a Plunge team will be given the same Plunge time. A team captain can sign up the entire team for a Plunge time slot, but remember that all team members need to check in (if your team captain hasn't checked you in) at pre-check in or between 10:30 am and 12:45 pm on the day of the event in order to Plunge.
Parking and Shuttle
A free shuttle bus route will be available from 11 a.m. through the end of the Plunge. Shuttle buses are free to all participants and spectators. Because of the limited parking on-site, only handicap vehicle permits will be allowed to park at the beach. All others must ride the shuttle buses, which will run approximately every 15 minutes from the following locations:
Cowboy Jacks
1690 Woodlane Dr
Woodbury, MN 55125
Check out all of the fun activities going on at Cowboy Jacks on the day of the Plunge!
Woodbury High School
(Pick up is near the tennis courts)
2665 Woodlane Dr
Woodbury, MN 55125
---